Comfort and safety with a "smart" taste. From the Japanese motorbike manufacturer Honda comes a patent that looks far ahead: the subject of the invention is a new model of smart windshield, capable of adapting to the needs of each individual rider and aimed at improving visibility, limiting noise, and ensuring adequate protection against the wind.
An invention that may not seem ground-breaking per se, perhaps, but which represents a step closer to those motorbikes of the future that the House of the Rising Sun is aiming for: in fact, Honda is working on several voice-controlled systems, and in this respect even "simple" noise reduction can become a decisive factor in making these systems properly usable.
How it works
The patent application for Honda's self-adjusting electronic windshield, filed in Japan, highlights several components accompanying this technology: a microphone mounted on the rider's helmet or directly on the tank, to "record" the intensity of the motorbike noise, and two cameras, located on the mirrors and looking the rider in the face. These become essential for measuring the height of the driver's gaze and raising or lowering the windscreen accordingly, so as not to inhibit overall visibility.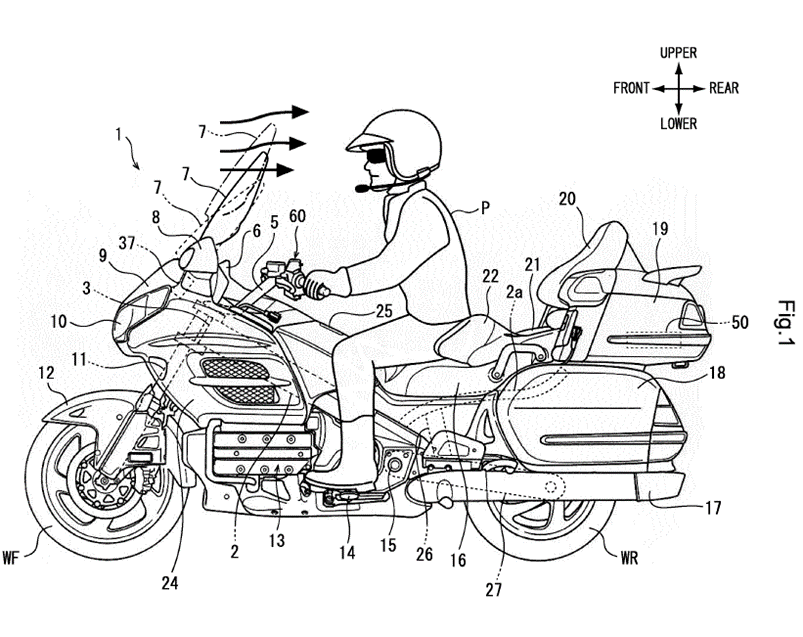 These instruments work in conjunction with a control switch and transmit their information to an ECU, which controls the windscreen via an electrical adjustment system.
Smart but also manual adjustment
The system is able to adapt automatically to different riding conditions, but, of course, all the controls can also be operated via the controls on the handlebars by the rider, who can decide whether to prioritise protection from wind noise or better visibility.
In the former case, the windscreen may occasionally approach the limits of the rider's "eye level" in an attempt to minimise noise. In the second, however, it will remain higher so as not to risk obstructing the rider's gaze, even at the expense of increased noise.
Technology in the saddle
As mentioned, therefore, this patent is a further step on Honda's path towards increasingly comfortable and safe motorbikes, also thanks to technological "grafts". Just think of the planned introduction of elements such as front and rear radar and driving assistance systems.
Certainly, however, Honda can already be credited with having taken an element often considered not very useful by motorcyclists and often linked to a purely aesthetic perception, such as the windscreen, and turning it into something useful and truly functional.