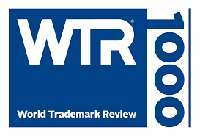 WTR 1000 – The World's Leading Trademark Professionals – 2022
Cosa dice di noi WTR 1000:
"Excellent counsel and an extremely effective service" are the order of the day at Bugnion. "Its practitioners are the very definition of professional, provide innovative solutions – even in deadlock situations – and stand for the highest quality of work in Europe." The outfit maintains an impressive presence on the continent – with a total of 15 offices, in addition to a Los Angeles outpost and Japan desk – and has 77 attorneys who tend to over 9,000 brand owners and oversee 60,000-plus marks. Reflecting its strength in depth, six of its practitioners – Donatella Prandin, Paola Stefanelli, Simone Verducci Galletti, Alessandro Mannini, Fabio Angelini and Stefano Ferro – are ranked in the WTR 1000 this year. Overseeing operations in Milan, Prandin has an energy and passion for trademarks which make her a client favourite. Of Stefanelli, one patron enthuses: "Paola is always well prepared, advises effectively and solves problems in a very clever way. She makes sure that we have all the relevant factors to consider before we make a decision." "Simone stands out for his robust technical approach, pragmatism and creativity. He is a first-class professional who finds the best solution to every case; his efficiency is extraordinary." Mannini and Angelini also receive rave reviews. "Alessandro's work is exceptionally done and always timely. He is responsive, devises practical, sound strategies and is super-easy to work with. Overall, he is at the top of his game." "Fabio excels at providing clear, precise opinions and his advice is consistently accurate, and based on real-world business and legal risks. He is an effective advocate and works well with opposing counsel to resolve matters before they spiral into expensive and unresolvable disputes." Joining the troop in the guide this year, Ferro "always pulls through for his clients. He is super-helpful, understands the nuances of Italian practice and thinks costeffectively".
Premi e professionisti consigliati: Donatella Prandin, Paola Stefanelli, Simone Verducci Galletti, Alessandro Mannini, Fabio Angelini